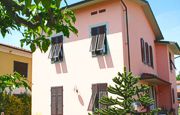 Affittacamere Villa Delia – B&B Room Rental
Villa Delia is located near the Renaissance city walls of Lucca, in a quiet location. Yet strategically placed for visiting the city, which can easily be reached by foot or by bicycle.
http://www.affittacamerevilladelia.it
Bed and breakfast (B&B) in Lucca
A holiday in a Bed and Breakfast in Lucca is almost certainly the cheapest way to come into contact with the real Lucca and participate in the daily life of this important Tuscan location first-hand.
The Bed and Breakfasts in Lucca are usually actual homes, modernised and equipped with all you need to make your stay in a B&B in Lucca simply unforgettable.
Our site has a selection of the best Bed and Breakfasts; by clicking on a name you will enter the website of the B&B itself where amazing special offers and last minute promotions surely await you!