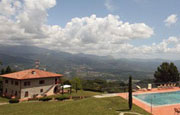 La Pozza holiday home
Villa with swimming pool, it comprises 4 apartments.
http://www.casavacanzalapozza.it
Villas and holiday apartments, homes in Lucca
The villas and holiday homes in Lucca and the surrounding province are mainly independent villas that have recently been modernised, and are fully equipped with all the comforts, including a swimming pool, a large park that guests can use, barbecue, etc.
The rental holiday homes and villas we offer in the province of Lucca include some that are situated very close to the town itself, some near the beach, and others located in the mountains between Garfagnana and Media Valle del Serchio. Staying in a holiday home in Lucca means choosing a holiday based on relaxation, where you can fully immerse yourself in nature but are within easy reach of a wide range of activities. Whether you prefer naturalistic (sea and mountains) or cultural excursions (visits to Lucca and other areas of Tuscany), you won't be disappointed!
Click on the villa or home of your choice and enter its website; many special offers and last minute promotions for villas and holiday homes in Lucca await you!